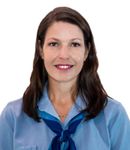 Ashley Stander
Expertise
Writing, Editing, Proofreading, Health communications, Finance communications
Education
BA Communications degree at the University of Johannesburg, Postgraduate diploma at the AAA School of Advertising
Experience
Ashley has 26 years of experience in writing for various industries including health and finance. She has over ten years of experience with Alexander Forbes both full-time and as a freelancer. She has worked for Discovery Health full time and is currently working for them as a freelancer. Ashley also held the position of media relations officer for Rhodes University, gaining valuable experience in the higher education sector. She has had many smaller clients in a wide range of sectors, giving her a wealth of experience in creating very different pieces of communication from press releases to social media posts, articles, blogs, video scripts, newsletters, and trustee reports.
Quote From Ashley Stander
"Creativity is more than just being different. Anybody can plan weird; that's easy. What's hard is to be as simple as Bach. Making the simple, awesomely simple, that's creativity." — Charles Mingus
About Blyp's Editorial Process
At Blyp, our expert team of writers and editors aims to bring you the information you need to make data-driven decisions that accelerate business growth. Industry professionals fact-check our content to ensure relevance and accuracy. We only source content from reputable sites and research institutions and cite this where appropriate. Our content is rigorously reviewed before publication and upon considerable updates. Read our editorial process to learn what we do to deliver you the quality content you can rely on.
Latest from Ashley Stander