Transitioning to GA4: A Simple Guide for Shopify Merchants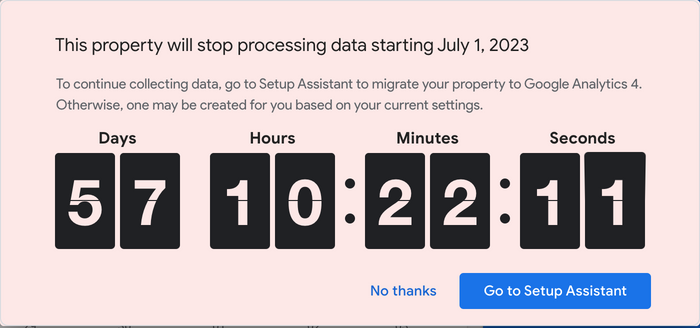 Introduction
If you're a Shopify merchant, hopefully by now you've heard about Google Analytics 4 (GA4).


It's the latest version of Google Analytics, providing advanced tracking and analysis features. By installing GA4 on Shopify, businesses can track their website's performance and gain insights into customer behavior.


The new version introduces significant changes to the user interface and data collection, processing, and display, which users of the previous version will need to adapt to.


Furthermore, with Google announcing the sunsetting of Universal Analytics starting July 2023, it's essential for Shopify merchants to prepare for the transition to ensure seamless data usage for day-to-day operations.


In this guide, we will walk you through the process of installing GA4 on Shopify using Shopify's native integration in just a few simple steps.
GA4 for Shopify: Why Make the Switch?
Google Analytics has been the go-to tool for understanding website performance and user behavior for many years. With the introduction of GA4, Google aims to offer a more comprehensive and insightful analytics platform, tailored to meet the growing needs of ecommerce businesses.


Switching to GA4 for Shopify comes with numerous benefits:
Advanced tracking and analysis features:

GA4 offers enhanced tracking and analysis features, such as cross-device tracking, better audience segmentation, and funnel analysis. These features enable you to gain a deeper understanding of your marketing strategy's performance as well as your customers' behavior and make data-driven decisions for your business.

Continuity - Sunsetting of Universal Analytics (GA3)

: As mentioned earlier, Google has announced the sunsetting of Universal Analytics (GA3) starting July 2023. Transitioning to GA4 before the deadline ensures continuity in data collection and analysis, preventing any disruptions to your business operations.

Integration with other Google services

: GA4 seamlessly integrates with other Google services, such as Google Ads and Google Search Console, making it easier to manage your marketing efforts in one place.

Improved privacy and data protection:

GA4 is designed to be more privacy-centric, ensuring compliance with current and future privacy regulations. This is particularly important for Shopify merchants as they handle sensitive customer information.
Given these advantages, it's evident that transitioning to GA4 for Shopify is a must for businesses aiming to stay ahead in the competitive ecommerce landscape.
Google Analytics Shopify Setup: A Step-by-Step Guide to GA4 Integration
Follow this step-by-step guide to set up GA4 on your Shopify store using Shopify's native integration:
Step 1: Prepare Your Google Analytics Account
To begin the Google Analytics Shopify setup, ensure you have a Google Analytics account with a GA4 property and data stream ready to use.
If you already have everything set up, you can skip this step.
Otherwise, follow this guide to create a new Google Analytics property for your Shopify store before proceeding.
Step 2: Locate Google's Channel/App in Shopify's Admin Panel
To set up GA4 for Shopify, navigate to your "Online" channel, click "Preferences," scroll down to the Google Analytics section, and click the "Manage Pixel" button.
Alternatively, search for the Google app in the app search bar and install it on your store.
Need a shortcut? Here is Google's app page on Shopify's app store
Step 3: Connect Your Google Analytics Account
Once inside the Google Channel, you'll be asked to connect your Google Account.
Click "Connect" under the "Connect your Google Account" section inside Google's channel and approve Google's request for permissions.
Step 4: Select Property, Stream, and Connect
Choose the desired data stream and click "Connect." If unsure which data stream to use, refer to the GA4 property setup guide for Shopify mentioned above.
Step 5: Verify Your Setup
To ensure the successful GA4 for Shopify setup, visit the "Real-time" section of your GA4 property in Google Analytics to ensure data is populating.
If not, check the data stream setup. This step is crucial to confirm that your Google Analytics Shopify setup is successful and working as intended.


If nothing pops up yet, try visiting your own store. Do you see your own data in the Real-time report? If not, check to make sure that you chose the right data stream during setup.


Note that there is some lag in processing the data in GA4, so most of the reports won't show any new information for about 24 hours. Make sure you visit it again the next day to make sure everything looks right.


You may also want to consider removing the previous version's integration from your store, although these two integrations don't really interfere with each other, so as long as it's still active, you may want to keep both for comparison purposes.
That's it!


Installing GA4 on Shopify is essential for maintaining valuable insights into customer behavior and website performance.
By following this guide, you can smoothly transition from Universal Analytics to GA4 and continue to optimize your store's performance.


If you need any further assistance or have questions about the process, don't hesitate to reach out!