Introducing the Team From Peel-Tek, LLC

By

Staff Writer

Edited by

Siphokazi Mdidimba
Published June 7, 2022.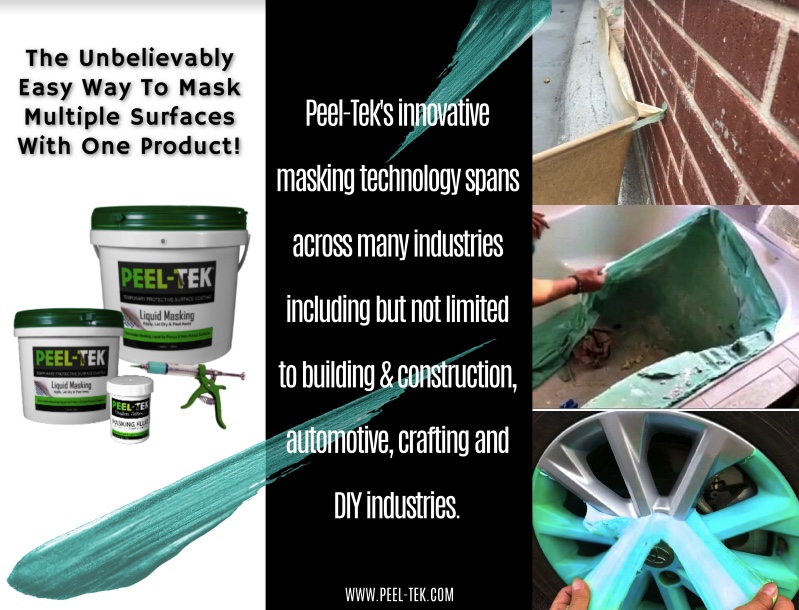 Building a business is a journey, and that's something that the team at Peel-Tek, LLC, know first-hand. Scott Halbert, Dwayne Kaufman, and Michelle Mitchell have been on an exciting journey together since the launch of their business back in 2016. Today we were lucky enough to speak with the team to learn more about what they offer and how their business journey could inspire you in the future.
What Does Peel-Tek, LLC Sell?
Peel-Tek® Liquid Masking & Peel-able Protective Surface Coating was created to fill the gap in masking hard to mask, rough, and porous surfaces. The product aims to prevent costly clean-ups during and upon the completion of construction projects, which is something that is a huge issue for companies in this industry. One of the great things about Peel-Tek® is that it's easy-to-use as it dries to form a contour-hugging, skin-tight protective coating to protect surfaces from damage. You can then peel it away cleanly after use, leaving no residue behind on the surface.
Over the past few years, Peel-Tek's innovative masking technology use now spans across many industries including the building and construction, automotive, crafting, and DIY industries, which all benefit from this product on a daily basis as it's like no other option on the market today. The team at Peel-Tek, LLC are passionate about offering this unique solution and supporting other companies who are facing the challenge of owning their own business while trying to offer the best service and products possible.
Finding the Feeling of Success as a Business Owner
For the team at Peel-Tek, LLC, the journey to success has been a slow but exciting one over the past few years. Each day, they are still learning more about how to succeed online, especially when it comes to using metrics to track their performance. When they started to get requests for their products from big box stores and large companies, this was a time when they started to feel like they had really found their place in the market. The aim to offer their product directly to consumers as well as contractors drove them forward each day, and the feedback they receive from clients helps to inspire them even during the toughest days.
When they started the company, they didn't know what they didn't know, which is a common phrase we hear from new business owners. If they could head back in time, they'd research more cost-effective ways to market their products, as this is one area which could have helped to increase profits early on. Financing for advertising is the biggest challenge the company faces to this date, which is another area we know many teams struggle with. By continuing to research every company that offers marketing services, you can ensure you find the perfect fit for your business. The team recommends that you get very familiar with your demographics, so that you know you are on the right track when working with an external marketing company.
The Journey of Being a Business Owner
Building a new business is a journey which is both thrilling and terrifying at the same time. There are many free resources on offer to you as a new business owner, and the team at Peel-Tek, LLC encourages you to take advantage of these to the best of your ability. Put in the time to learn everything you can about building a business, and share your product or service with anyone who will listen. The more exposure you can get for your brand, the more likely you'll be to find your place in even the toughest of industries. No matter what happens in your personal or business life, continue to be genuine and build relationships that will help you to get ahead in the long run.
A huge thank you to Scott Halbert, Dwayne Kaufman, and Michelle Mitchell for taking time out of their busy schedule to speak with us today about the products that Peel-Tek, LLC offers. Check out their website for more information about how their products could help your business or to learn more about their journey as business owners. We wish them all the best of luck in 2022 and can't wait to see what the future holds for the company.