Enjoy High Quality and Sustainable Resort Wear From Ooshie

By

Staff Writer

Edited by

Siphokazi Mdidimba
Published June 7, 2022.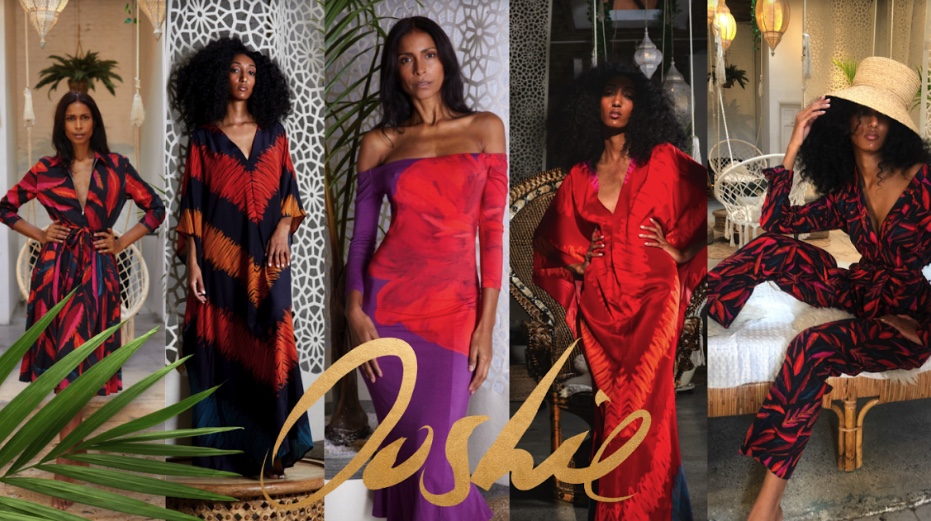 If you've been thinking about updating your wardrobe this year, you might be looking to make more conscious choices about the clothing you wear. Ooshie is a fantastic example of a successful online business which still keeps their ethics as the number one priority. Today we spoke with Melissia Hill, the owner of Ooshie, about what it takes to run a successful online store.
What Is Ooshie?
Ooshie is a sustainable clothing line for women which offers high quality and stylish resort wear with unique colors and print designs. Each of the items in their collection is hand-drawn and designed by Melissia. The company is best known for its caftans, exotic motifs, unique color combinations and vibrant florals. By combining handcrafted designs and high-quality biodegradable fabric, the team has been able to find a way to make women feel that anything is possible. Instead of having to rely on fast and disposable fashion, they are now offering a solution which won't negatively impact our planet. It just goes to show that you don't have to compromise your values in order to succeed online. Since the launch of the business in 2018, Ooshie has gone from strength to strength, thanks to the belief that Melissia has in herself and the products that she offers.
The Dream of Being Your Own Boss
For many aspiring entrepreneurs, the thing that pushes them forward each day is the dream to be their own boss. Melissia hoped to have the opportunity to share her vision of fashion, finding a way to inspire workmen around the world. She saw a gap in the market for an alternative to fast fashion, which is something that many people are trying to avoid today in an attempt to be a more conscious consumer. Melissia noticed an opportunity to be a leader in the resort wear niche, offering clothing items which couldn't be found at other stores. For her, it's been a great decision so far, and she loves being her own boss each and every day.
As a business owner, there's usually one moment where you feel like you've nailed it and found success. For Melissia, this came when she was tagged in a post on Instagram of a woman who is part of the cabinet for Vice President Kamala Harris, who was wearing one of her silk shirt dresses. She also felt success was coming her way when the reviews of her products were overwhelmingly positive. Of course, it was not a quick or easy road to get to this point in the business. Melissia put in countless hours of hard work to perfect her craft and market her designs. This all paid off in the end, but she'll never stop working hard in order to offer her clients the best products and experience possible.
Tracking Data to Improve Your Marketing
When launching a Shopify store, you'll want to ensure you are keeping an eye on your metrics for your marketing and sales. Melissia recommends using Blyp for all of your data reporting, as it's easy to understand. You won't have to worry about tracking down data or understanding complex reports, as everything you need is right at your fingertips. Blyp is something that the team at Ooshie used to see how well their email campaigns are performing as part of their overall marketing strategy. They can then make informed decisions about how to allocate resources to improve their ROI.
A question that Melissia is often asked is if there is anything she would do differently if she was to go back in time and launch her business again. The answer for her is a resounding no. This doesn't mean there haven't been challenges on the way, but that's what has made her stronger and more resilient. Even on those days where you are thinking of quitting, you'll find that you could be learning valuable lessons which will help your business to thrive in the future.
Believe In Yourself and Your Vision
Melissia's number one piece of advice for anyone hoping to launch a business this year is to believe in yourself and your vision. If you don't have faith in your own ability, no one else will be convinced of the same. Whatever you do, never give up, and keep taking steps forward towards your dreams. With a little patience and faith, you can do anything you set out to achieve.
A huge thank you to Melissia for sharing her words of wisdom for anyone launching a business this year. Check out Ooshie online today for more information and to browse their stunning range of resort wear.